Rona Gallery has a great selection of children's books by New Zealand authors, alongside vibrant art from accomplished artists. My favourite works include Richard Ponder's paintings for their a larger-than-life impact, and Ken Hunt's exquisitely detail and rich depth and texture. Events at Rona Gallery are a buzzing hive of inspiration with well-known New Zealand artists and literary figures attending.
Eileen Mueller (Storylines Wellington Regional Co-ordinator)
---
Great gallery…lots of original, bold and colourful and paintings and prints from a range of artists……But there is more with some great glass work and odd sculpture piece as well as a great range of children's and cookery books. Easy place to find gifts for anyone!.
Peter Harvey
---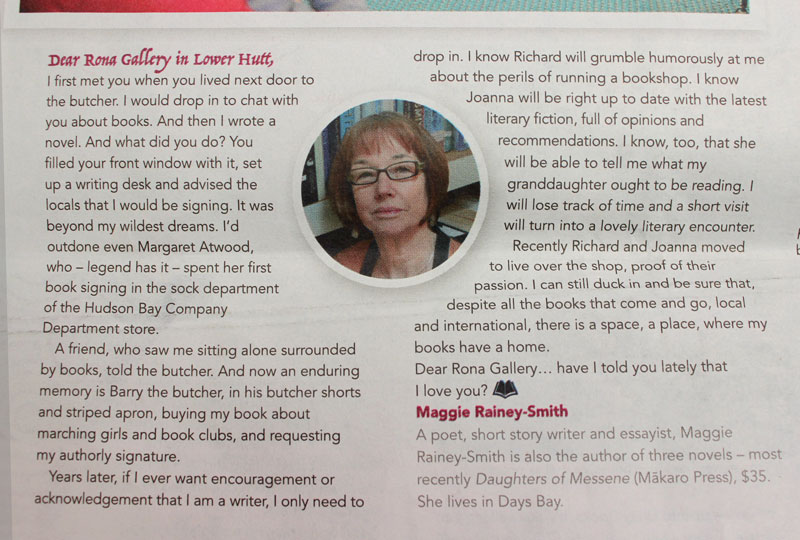 Maggie Rainey-Smith published October 28 2017 "Your Weekend"
---
Rona Gallery is a place where books and art have a home. It is spacious and welcoming space, and both art and books are selected carefully by two people who are passionate about them, and have a commitment to get them out into the world. Richard is an artist and Joanna is a reader par excellence. Talking about books and art is what the Ponders and their staff do best.
Mary McCallum, author and publisher, Mākaro Press
---
When I come to Rona Gallery there is something for everyone in the book and art area. The experience touches my heart.
Regan Smith
---
Ponder Art: Nadia Lim "My Food Bag" 10 minutes into the interview

---

RONA Gallery, Wellington. Wellington's favourite bookshop and art gallery, in the heart of Eastbourne, Lower Hutt
151 Muritai Road, Eastbourne, Lower Hutt 5013.

Rona Gallery is a fine art gallery in the heart of Eastbourne, we specialise in some of the best NZ art, including Richard and Michael Ponder. Ken Hunt, and Darcy Nicholas. The expertise of these artists spans decades. Darcy Nicholas oversaw the creation of Pataka in 1998 and set up the Maori Art Market art fair in 2005, Ken Hunt is known for his birds and his exquisite attention to detail, and his faithful old masters reproductions, including Goldie, and of course Richard and Michael who are both iconic NZ artists in their own right.

If you love books and you love art, we're the place to be:

WE'RE OPEN:

10.00am - 4.00pm Mon-Sat,
12 midday- 4pm Sundays and most public holidays (except Good Friday, Christmas, and New Years Day & Winter Hours when we are closed Mondays and Tuesdays)
Rona Gallery, the best of Wellington art.
Take a look inside...