Rona Gallery has a great selection of children's books by New Zealand authors, alongside vibrant art from accomplished artists. My favourite works include Richard Ponder's paintings for their a larger-than-life impact, and Ken Hunt's exquisitely detail and rich depth and texture. Events at Rona Gallery are a buzzing hive of inspiration with well-known New Zealand artists and literary figures attending.
Eileen Mueller (Storylines Wellington Regional Co-ordinator)
---
Great gallery…lots of original, bold and colourful and paintings and prints from a range of artists……But there is more with some great glass work and odd sculpture piece as well as a great range of children's and cookery books. Easy place to find gifts for anyone!.
Peter Harvey
---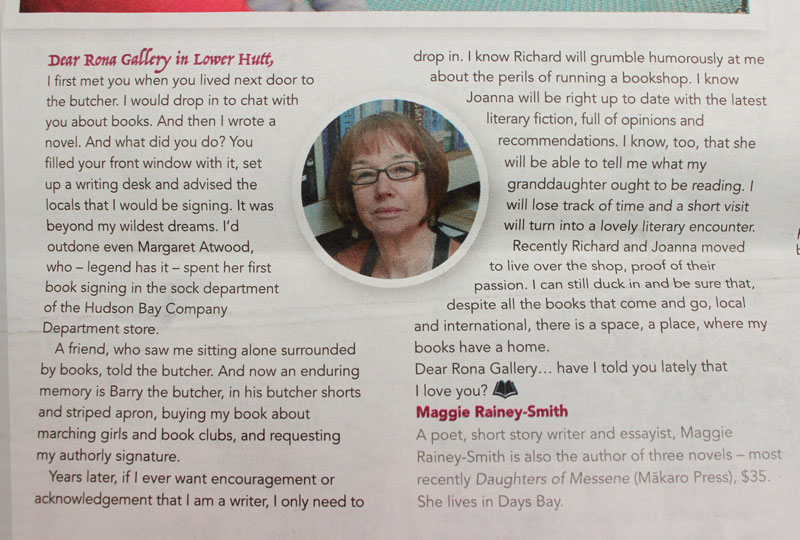 Maggie Rainey-Smith published October 28 2017 "Your Weekend"
---
Rona Gallery is a place where books and art have a home. It is spacious and welcoming space, and both art and books are selected carefully by two people who are passionate about them, and have a commitment to get them out into the world. Richard is an artist and Joanna is a reader par excellence. Talking about books and art is what the Ponders and their staff do best.
Mary McCallum, author and publisher, Mākaro Press
---
When I come to Rona Gallery there is something for everyone in the book and art area. The experience touches my heart.
Regan Smith
---
Ponder Art: Nadia Lim "My Food Bag" 10 minutes into the interview

---

RONA Gallery, Wellington. Wellington's favourite bookshop and art gallery, in the heart of Eastbourne, Lower Hutt
151 Muritai Road, Eastbourne, Lower Hutt 5013.

WE'RE OPEN:

10.30am - 4.30pm Mon-Sat,
11am - 4pm Sundays and most public holidays (except Good Friday, Christmas, and New Years Day)
Rona Gallery, the best of Wellington art.
Take a look inside...